What is a peer network?
Making friends and sustaining friendships can be difficult for students with significant disabilities. Even though they attend the same schools, students with significant disabilities are often isolated from peers, and may not always have access/support to participate in everyday social activities, thus limiting their opportunities to develop friendships. Peer networks are one way to help foster relationships by bringing students together! According to the work of Dr. Erik Carter, a peer network is a group of three to six students without disabilities matched with a student with a significant disability, who meet regularly (usually once a week) to talk, enjoy an activity together, and socialize. The goal of the peer network is to create a space and opportunity for students with disabilities to make social connections, and lay the groundwork for meaningful friendships with their peers at school.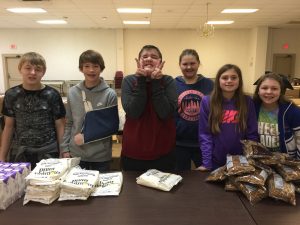 Initially, the group is guided by an adult. This adult can be anyone with an active role in the school: a teacher, guidance counselor, coach, para educator, or perhaps a parent or community volunteer. The adult facilitator reminds the group of when and where they are meeting, and assists the students in developing activities or conversation topics for the meetings. The facilitator fades his/her support – while still providing guidance – as the group bonds and gains independence in their interactions and planning.
Ideally, the peer network will also spend time during their weekly meetings planning interactions outside of the meeting and even outside of school. Peer networks can make plans, for example, to attend school dances and sporting events together, meet for pizza after school, or simply greet each other in the hallways between classes!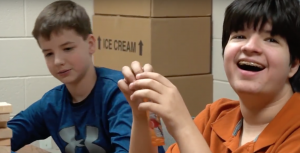 Sometimes schools struggle to find a meeting time and place for peer networks. Having a stable time and location is important as students can forget when and where to go for their time with the network. Some suggestions for meeting places include: the cafeteria, conference rooms, classrooms during a free period, guidance rooms, the library, the gym, or outside during nice weather. A consistent time is just as important. While most schools use the lunch period for network meetings, other potential meeting times include: any advisory or flex period a school may have, break periods, club times, and before or after school.
Below, you will find an example of a peer network with a student who uses a communication device.  This video is part of an initiative designed to improve communication and educational services to students with complex communication challenges titled TAALC (Teaching Age-Appropriate Academic Learning via Communication).
To create and implement a peer network, here are some basic steps (these can also be found on the 'Peer Network Tip Sheet' on our Resources page!)
Identify interested students with a significant disability
Identify a peer network facilitator (teacher, counselor, coach, etc.)
Identify and invite 3-6 peers to join the group
Hold an initial orientation meeting with the group
Facilitate regular peer network meetings
Reflect, fade, and maintain the network
For more information about peer networks, including network goals, how to invite peers, student orientation, etc., please visit the Resources page of this website.